How to Treat Lichen Amyloidosis in Ayurveda?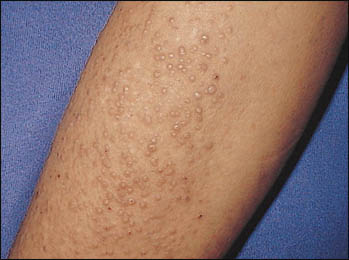 Introduction
An amyloidosis is a group of diseases in which a protein known as Amyloid fibrils accumulate in tissues and organs such as kidney, heart and sometimes even the nerves. It interferes with the functioning of organs leading to their malfunction. This condition may even result in the death of a person. Symptoms of amyloidosis may include weight loss, diarrhea, feeling tired, bleeding, numbness, swelling of the legs, faintness.
About Lichen amyloidosis (LA)
Lichen amyloidosis (LA) is the most common chronic form of cutaneous amyloidosis. It is a skin disease caused by the deposition of amyloid (a protein) in the skin.
The lesions mainly occur in the lower leg and sometimes on forearms, thighs, lower limbs, and back. It is more likely to develop in males than in females aging 50 to 60 years.
Symptoms of Lichen amyloidosis (LA)
Pruritus (severe itching)
Hyper-pigmented rashes especially in the lower leg
Scaly papules (in red or brown color)
Bleeding due to excessive scratching of the skin

(Reference: Ashtanga Hridyam (Sutra sthana) Chapter No. 11, Shloka No. 7)
This shloka explains, the effects of vitiation of Kapha Dosha.
It weakens the digestive system, excessive production of saliva, laziness, a feeling of heaviness, whitish discoloration, coldness, loss of strength of the body parts, asthma, cold, cough, and excessive sleep.
Causes of Lichen amyloidosis (LA)
The exact cause is not yet known for lichen amyloidosis. However, it may develop due to some genetic and environmental factors. Excessive scratching and consistent friction between the skin may cause lichen amyloidosis in patients. It can damage the epidermis of the skin exposing the dermis. Due to this extracellular protein accumulate on the upper layer of the dermis (papillary dermis) and creates papules and rashes.
Lichen amyloidosis is usually characterized by other skin conditions such as Lichen Planus, fungal infections, and atopic dermatitis.
Diagnosis of Lichen amyloidosis
Skin biopsy
Blood and urine tests
Echocardiogram
Histological investigations
Ayurvedic Treatment for Lichen amyloidosis
Planet Ayurveda provides the best combination of herbal remedies such as "Amyloidosis Care Pack" which is an effective ayurvedic treatment for Lichen amyloidosis. All these herbal remedies of Planet Ayurveda are 100 percent safe, pure, natural and are free from any preservatives, chemicals, additives and have no side effects.
Dosage
Aamvatantak Churna - 1 teaspoonful twice daily with warm water, half an hour after meals.
Boswellia Curcumin - 2 Capsules, twice daily with warm water.
Aarogyavardhini vati - 2 tablets, thrice daily, with warm water after meals.
Aloe Vitals - 2 capsules, twice daily with warm water.
Navkarshik Churna - 1 teaspoonful twice daily with warm water, half an hour after meals.
Products Description
1. AAMVATANTAK CHURNA
Aamvatantak Churna consists of various pure and effective herbs such as Ashwagandha (Withania somnifera), Methi (Trigonella foenum graecum), Suranjaan (Colchicum automnale), Gorakhmundi (Sphaeranthus indicus), Haridra (Curcuma longa) and Sonth (Zingiber officinale).
All of these herbs are used for the treatment of various health issues. This herbal powder overcomes the weakness and provides energy and stamina to the body. It is very effective in the management of Amyloidosis.
2. BOSWELLIA CURCUMIN
The formulation consists of pure extracts of two herbs, Curcuma longa, and Boswellia serrata. Both herbs have anti-inflammatory property. This is a very effective Ayurvedic formulation for the treatment of amyloidosis.
This product reduces swelling, improves blood circulation and remove toxins from the body. Due to its immunomodulatory properties, it helps to improve the immune system. It also posses anti-oxidant property.
3. ALOE VITALS
This formulation of Planet Ayurveda consists of standardized extract of Aloe Vera. The herb contains high amounts of anti-oxidant in it which helps to remove toxins from the body. It improves the overall functioning of all the organs. In the case of amyloidosis, it helps to remove the accumulated abnormal proteins from the body. It helps to control the symptoms like weakness, fatigue, diarrhea, and other symptoms as well. The product is beneficial to improve overall health.
4. AROGAYAVARDHNI VATI
Arogayavardhni Vati tablets of Planet Ayurveda consist special combination of various natural herbs Katuki (Picrorrhiza kurroa), Haritaki (Terminalia chebula), Vibhitaki (Terminalia bellerica), Amalaki (Emblica officinalis), Shudh shilajatu (Ashphaltum), Guggul (Commiphora mukul), and Chitrak mool (Plumbago zeylanica).
The product helps in controlling the symptoms of amyloidosis such as weakness, fatigue and swelling in the ankles and feet. The product is an excellent one to provide nutrition to the body and helps to gain weight. The product helps in the removal of accumulated abnormal proteins and helps in the purification of blood.
5. NAVKARSHIK CHURNA
This herbal formulation of Planet Ayurveda consist mixture of various important and useful herbs such as Amla (Phyllanthus emblica), Haritaki (Terminalia chebula), Bahera (Terminalia bellerica), Vacha (Acorus calamus), Neem (Azadirachta indica), Manjistha (Rubia cordifolia), Katuki (Picrorhiza kurrroa), Giloy (Tinospora cordifolia) and Daruhaldi (Berberis aristata).
This mixture of herbs overcome the weakness associated with the disorder. The product posses anti-inflammatory, immunomodulatory and anti-oxidant properties. It helps to remove deposited proteins from the body and in the clearance of channels. The product improves metabolism and helps in purification of blood.
To buy Amyloidosis Care Pack, please visit store.planetayurveda.com/products/amyloidosis-care-pack
Home Remedies
1. Movement
Daily exercise helps to fight pain and fatigue related to amyloidosis. Running and other high-intensity exercises can increase the risk of amyloidosis. So, it is best to do light or moderate-intensity exercises.
2. Sleep therapy
Insomnia can cause fatigue during the daytime and it can create difficulty to sleep at night. To overcome the fatigue follow sleep therapy. Meditation and deep breathing exercises before bedtime can make it easy to sleep.
3. Foot massage
A foot massage can help to alleviate the symptoms such as pain and fatigue which are associated with amyloidosis. A foot massage can improve blood circulation.
4. Fluid adjustments
It is important to drink lots of water but in some cases, too much water intake can cause some problems especially when you have heart problems related to amyloidosis. So it is recommended to have not more than one and a half liters of fluids every day. This balance of fluid intake can reduce symptoms of leg swelling.
Dietary Guidelines
Add the following foods in your diet to alleviate the symptoms of amyloidosis.
High-fiber Foods
Low-salt Diet
Omega-3 fatty acids
Fruits and Vegetables: It includes bananas, pineapples, papayas,   oranges, spinach, tomatoes, and sweet potatoes,
Red Wine
Share On