Planet Ayurveda in New Delhi (Kotla Mubarakpur)

Delhi is the capital of India and it is one of the biggest metropolitan city. Delhi is a vast and beautiful place to visit as it is full of historical places which have so much to tell about our history. Our capital is the hub of everything - people say, whatever you wish and desire can get from here. The capital of India, Delhi is surrounded by Haryana on the three sides and Uttar Pradesh in the east. Faridabad, Gurgaon, Ghaziabad, and Noida are nearby areas of Delhi and are called CNCR.
Delhi is not only having marked history but as said it is a hub of everything. Being the capital of India it is the developed city and is developing further with every passing day. Everyone living there is running in speed to work hard and earn their living. People living there are so lost in the race of daily life that they even ignore their health. If one falls sick, rush to get the treatment which can treat them at the earliest even after knowing that it will harm them in long run. After a long survey and studying the lifestyle of Delhi Dr. Vikram - MD (Ayurveda) had a thought and decided to spread out the awareness of Ayurveda and serve humanity with the authentic Ayurvedic practice. He also had an idea of making people aware of the classical, authentical and pure herbal supplements which had a magical effect on the people who are suffering from different diseases and are looking for the treatment which could cure them and has no side effects.
Dr. Vikram Chauhan - MD (Ayurveda) is running a herbal company since 2001 who has the motto to spread the awareness of Ayurveda all over the world and serve people with Ayurveda. Planet Ayurveda has its main branch in Mohali, Sector-82, Plot No-627, JLPL Industrial area. The quality and the therapeutic benefits of the products of Planet Ayurveda has treated the number of people which ultimately has increased the importance of Ayurveda and love for Dr. Vikram Chauhan worldwide. ITP (Idiopathic Thrombocytopenic Purpura), Ulcerative Colitis, IBS( Irritable Bowel Syndrome), Scleroderma; Kidney ailments - failure, shrinking and stone; Liver-fatty, Hepatitis; Atopic Dermatitis, and many more health ailments are being treated by Dr. Vikram Chauhan and even the views, reviews, and the real testimonials of the patients are uploaded to make the people understand the magic of Ayurveda.
Planet Ayurveda is a self-manufacturer of herbal products.
All traditional pharmacopeial supplements are manufactured here under the principle mentioned in the Ayurvedic literature.
No chemicals are used- even the capsule shells are 100% vegetarian and are made from plant cellulose.
The products manufactured under Planet Ayurveda are free from chemicals, starch, additives, color, binders, fillers, yeast, and any such thing which is harmful to our body.
The products manufactured here undergo the quality, potency test to see whether used ingredients are pure or not.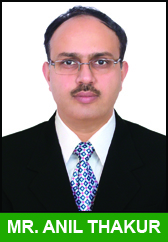 To spread his idea and thought of Ayurveda he needed a person who knew the importance of Ayurveda and had trust in it. Dr. Vikram Chauhan came to know about Mr. Anil Thakur who is a mature man with awareness and full knowledge of Ayurveda. People living in Delhi were aware of Ayurveda but needed to know the practical importance. Dr. Vikram attended and organized the Ayurvedic camps and made people understand the importance of Ayurveda and also studied the patients there. Patients who cannot visit Planet Ayurveda Center in Mohali due to their health condition, busy schedule or long distance get their medicines from Mr. Anil Thakur. He is proving to be very helpful and a strong connector between patients and Dr. Vikram Chauhan.
Contact Details
Address: Navneet Traders
Office At Room No. 21, 2nd Floor,
1734, Bhagwat Building,
Sher Singh Bazar, Gurudwara Road,
Kotla Mubarakpur,
Opp. Defence Colony,
South Extension - Part 1
New Delhi - 110003
Phone No.: (+91) 982-106-7771, (+91) 701-523-1544
Email Id: anilthakur_ssc@yahoo.com
Working Days:- Monday to Saturday (10:30 AM to 07:00 PM), Sunday Closed