Planet Ayurveda Branch In Mumbai, Maharashtra
Mumbai is a densely populated city situated on west coast of India. This largest city of India is also financial center of the country. There are numerous tourist attracting spots in this city like Gateway of India, Elephant caves, Marine drive and many more.
As it is densely populated there are many diseases prevailing too. Hence Dr. Vikram Chauhan decided to spread Ayurveda and serve the suffering humanity by the means of Planet Ayurveda.
Planet Ayurveda is a herbal company which came into existence in the year 2001 by Dr. Vikram Chauhan - MD (Ayurveda). Since then it keeps on flourishing and spreading throughout the world due to its effective products and wonderful results in various diseases. People throughout the globe appreciate and love its herbal products. The products offered by Planet Ayurveda are purely herbal and 100% safe to use. The efficacy rate of the products is very high. Products from here are exported to various countries like Singapore, USA, Czech Republic, Slovakia, Nigeria, Malaysia, Romania, Macedonia, Japan and many more are being added in the list daily with passing time. Our basic aim is to spread the Ayurveda and therapeutic usage and benefits of the herbs throughout the worldwide. Main Ayurvedic center of Planet Ayurveda is situated in Mohali, Punjab with Resellers spread all over the world. We have upper hand in herbal products due to various reasons:
Two main categories of Ayurvedic supplements are manufactured and marketed in Planet Ayurveda, i.e. the traditional pharmacopoeial preparations and Patent proprietary products. These patent products are analogous to the branded formulations in the modern medicine.
All the traditional pharmacopoeial supplements are manufactured according to the specifications laid down in the Ayurvedic formulatory of India.
During the preparation of these traditional pharmacopoeial products, instructions given in Shastriya Paddhati is strictly followed.
All the products including patent one, are prepared under strict Ayurvedic principles and from pure authentic herbs.
Capsule shells used in are medicines are 100% vegetarian which are made from plant cellulose instead of hard gelatin capsule shells used generally by other companies. These gelatin capsules are low in cost and consist of chemicals, harmful for body.
In formulation of capsules, we use 100% pure standardized extract rather than regular extracts.
All of our products undergo quality, purity and potency check.
Planet Ayurveda is GMP certified company.
Although, treatment of all kinds of diseases is done here successfully but success rate of few health ailments like Ulcerative colitis, ITP (Idiopathic thrombocytopenic purpura), Scleroderma, and arthritis is much high. There are various testimonials given by real patients on our official YouTube channel. Dr. Vikram Chauhan gives consultation in person at main Ayurvedic center of Planet Ayurveda in Mohali as well as he prescribes the medicines through WhatsApp and Email consultations.
Dr. Vikram Chauhan and other trained doctors at Planet Ayurveda visit Mumbai frequently for various camps being organized in the city. These camps help in getting in touch with the patients over there and helping out the people by giving best of medical services. Many patients take advantage of these camps and visit there regarding their various health problems. Gradually along with Mumbai, Planet Ayurveda is covering up the whole Maharashtra.
For Bhandup West, Mumbai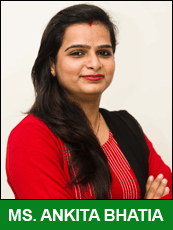 We also have one of our Reseller in Mumbai, Mrs. Ankita Bhatia. She has been connected with Planet Ayurveda since May 2016. The patients who cannot visit Mohali center due to long distance and other issues can get medicine through her. It also helps the patients from Mumbai who have once consulted at the main center to take further treatment through her. She also provides CASH ON DELIVERY (COD) facility to the customers.
Contact Details
Address: B 324, 3rd Floor,
Eastern Business District,
LBS Marg, Bhandup West,
Mumbai- 400078 (Maharashtra)
Phone No.: (+91) 913-788-5987, (+91) 900-403-2681
E-mail ID: ankita.namb@gmail.com
Review for Planet Ayurveda Products
Photo Gallery
Planet Ayurveda Branch in Mumbai
Ayush Exhibition in Bombay Exhibition Centre (BEC), Mumbai